Launch of the Hilgemann Fund in the Kröller Müller Museum, Otterlo, Netherlands on May 10th 2022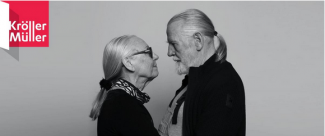 Invitation to launch Hilgemann Fund
On Tuesday may 10th 2022 a new fund will be launched in the Kröller-Müller Museum: the Hilgemann Fund. This fund was founded in 2021 by visual artist Ewerdt Hilgemann and his wife Antoinette de Stigter. It is set up to support 'willful sculpture', or spatial art in the broadest sense. Support can take the form of a purchase, an exhibition or a publication. It is managed by the Kröller-Müller Museum.
Ewerdt Hilgemann states that the reason for the Hilgemann Fund was 'that he wanted to give something in return' for the rich career he was granted himself. Collaboration with other artists has always played an important role for him, as well as for Antoinette de Stigter, who founded Art Affairs in 1989, a gallery in Amsterdam, specializing in international contemporary art with a strong conceptual slant.
The first expenditure from the Hilgemann Fund is a contribution to the purchase of six video works by Jeroen Jongeleen (Apeldoorn, 1967) in 2021. Jongeleen often works in public spaces.
During the first lockdown in 2020, he starts running in deserted urban locations, initially long distances, but eventually in the shape of a circle. A drone follows his movements and shows how Jongeleen leaves a trail on parking lots and forbidden city areas, but also in a landscape near the Kröller-Müller Museum. A gesture in space by an artist who is stuck in a homemade hamster wheel, drawing a parallel with the corona pandemic, which was created by man himself and then held him captive.
Running in circles. Jeroen Jongeleen, Four Seasons Total Landscaping, in Two Acts, 2020
The contribution to the purchase of Jeroen Jongeleen's work was made in close consultation with Ewerdt Hilgemann and Antoinette de Stigter.  His presentation 'Running in Circles' at Kröller-Müller Museum runs from March 12 to October 30, 2022.
For all those who would like to attend the event alongside a film screening by Paul Kramer and Martijn Tervoort about the Hilgemann Fund, a visit to the Cube (KMM) by Ewerdt Hilgemann in the sculpture garden and a visit to Running in circles by Jeroen Jongeleen you can register for this festive gathering via https://tickets.krollermuller.nl/nl/hilgemannfonds
Antoinette de Stigter and Ewerdt Hilgemann,
photo: Aatjan Renders