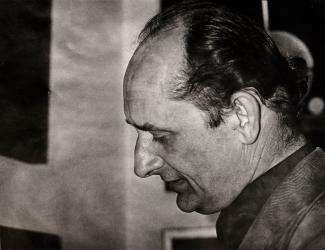 Stefan Krygier was born in Lodz in 1923, where he died in 1997. A painter, sculptor, graphic designer, architect, he studied at the State Higher School of Fine Arts in Lodz in the studio run by Władysław Strzemiński. In 1947, together with Strzemiński he published an article Vision of Gothic. In the years 1957-1997 he teaches graphic design, graphic arts and composition in visual arts at the State Higher School of Fine Arts (PWSSP) in Lodz (now Strzemiński Academy of Fine Arts). He also gives lectures in art history and the analysis of form in visual arts. In 1963 he graduates in architecture from the Faculty of Architecture at the Warsaw University of Technology. He designs and implements a wide range of topics in architecture and spatial planning.
His inspirations evolve in time from Cubism and Strzeminski's Solarism, the art of ancient Egypt and Greece, Tachisme, the Jewish cemetery in Prague, to conceptual art and constructivism, creating bas-reliefs, polychromous reliefs and conceptual objects (The Centre of Form Condensation I, II, III). The last period of the artist's creative activity was filled with simultaneous painting.
Stefan Krygier's works are among others in the collections of the National Museum in Warsaw, the National Museum in Szczecin, the Museum of Art in Lodz, in municipal and regional museums in Poland and in numerous private collections in Poland and in Europe.